© 2018 Lawrence A. Dyer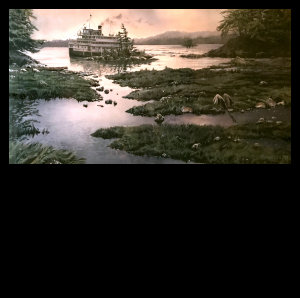 BLUEJAY IN PINE, 18" X 22", 1982
Blue jays are natural forest dwellers, but they are also highly adaptable and intelligent birds. They are a familiar and noisy presence around many North American bird feeders. The blue jay's "Jay! Jay" call is only one of a wide variety of sounds the bird employs—including excellent imitations of several hawk calls. They predominantly blue with a white chest and underparts, and a blue crest. It has a black, U-shaped collar around its neck and a black border behind the crest. Both sexes are similar in size and plumage,

There is a pronounced crest on the head, a crown of feathers, which may be raised or lowered according to the bird's mood. When excited or aggressive, the crest will be fully raised; when frightened, the crest bristles outwards, brush-like. When the bird is feeding among other jays or resting, the crest is flattened on the head.