© 2018 Lawrence A. Dyer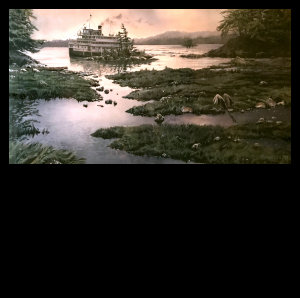 BLUE MARLIN, 26" x 32", 2019
The strikingly beautiful blue marlin is the largest of the Atlantic marlins and one of the biggest fish in the world. Females, are significantly larger than males, and can reach 14 feet in length and weigh more than 1,985 pounds. Average sizes tend to be in the range of 11feet and 200 to 400 pounds. They are cobalt-blue on top and silvery-white below, with a pronounced dorsal fin and a long, lethal, spear-shaped upper jaw. They prefer the higher temperature of surface waters, feeding on mackerel and tuna, but will also dive deep to eat squid. They are among the fastest fish in the ocean, and are known for putting up a tremendous fight when hooked. These rare marine monsters are the holy grail for sport fishermen.
This painting was commissioned by a fisherman who wanted to have the painting on his sport fisherman yacht. He wanted the light playing off the undersurface of the water and marlin in pursuit of blackfin tuna.
Giclee Prints: 16" x 25" on canvas mounted on a wood frame. Price $275:00. Insured shipping to USA via UPS Ground with tracking number $14:95