© 2018 Lawrence A. Dyer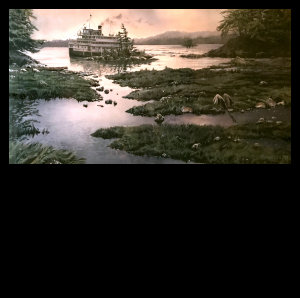 WINTER'S CHILD – SNOWSHOE RABBIT, 14" X 20", 1990
In most parts of its range, the snowshoe rabbit's fur changes from brown to white as winter approaches. Here, winter's first heavy snowfall, when the snowflakes cling to every branch, has come before the change to white is complete. The animal is exposed to predators at this time so it will spend time hidden in the brambly thickets foraging for buds, bark and twigs. This piece was released as a limited edition print.