© 2018 Lawrence A. Dyer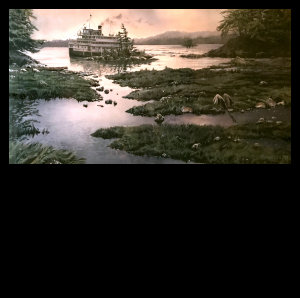 ANTICIPATION OF THE HUNT, 20" x 42", 1989
This painting is the second in the series Polar Inuit: Hunters of The North". One of the greatest qualities of the Inuit is their ability to smile and remain cheerful in times of adversity. The life of a hunter is continually governed by changes in the weather or snow and ice conditions.I painted these two hunters because they are having such a good time preparing for their journey. They were packing a dog sled with their hunting gear including their harpoons, ropes, furs, Kakivacs and more. The textures in their coats are interesting to paint.