© 2018 Lawrence A. Dyer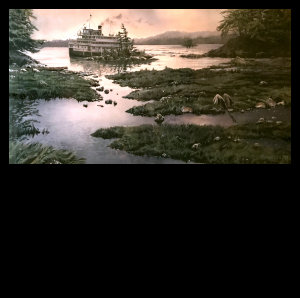 INUIT HUNTER AT IGLOOLIK, 20" x 30", 1993
Igloolik is a small community located in Nunavut, and is part of the Canadian Arctic Archipelago. The area provides a unique record of unbroken Inuit habitation, with the oldest site established about 2000 BC. The modern community dates from 1959. Sir William Parry with his 2 ships Fury and Hecla were the first Europeans to visit Igloolik. Parry and his crews wintered there in 1822-23.

The painting shows that there is a generation gap in all cultures. The hunter is excited to head out with his homemade 'Kakivac' fish spear. He takes his daughter along with him, who is not amused by the hunting ventures. I was given a set of about forty slides as a gift by an art patron and friend whose great grandfather was a school teacher at Igloolik circa 1920 when the series of photographs were taken. Eventually I would like to make paintings of the whole series which captured their way of life. There are photos of the hunters and their dog sleds at home and out on the ice hunting, and others showing the children and their village and school.













The photo at right shows how the painting is framed. I was turned on to the makers of these fantastic wood frames by Robert Bateman who has used them on several of his works. They are not easy to come by so I purchased quite a few of them for future works.














Giclee Prints: 20" x 38" on canvas mounted on a wood frame. Price $320.00. Insured shipping to USA via UPS Ground with tracking number $14:95