© 2018 Lawrence A. Dyer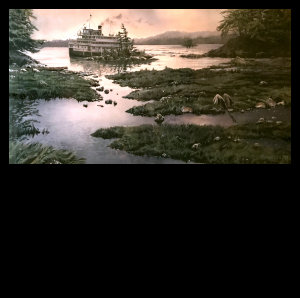 LOON LAKE - STONE LITHOGRAPH , 16" x 24" 1990
This was my first stone lithograph. The image you want to portray is carved into a smooth limestone piece in the reverse or mirror image of what the final work is to look like. The deeper you carve, the more ink will be be held by the indentations and will appear darker in the final image. The stone lithograph will only make a certain number of prints and then the soft limestone eventually wears down so the image appears lighter. I did a limited number of this piece to accompany my painting entitled 'Loondance' commissioned by the World Wildlife Fund to raise funds for loon conservation.

I wrote the poem for this piece and each print had it hand written on it with pen and ink caligraphy. I also hand painted each lithograph so the piece would have some color to it.