© 2018 Lawrence A. Dyer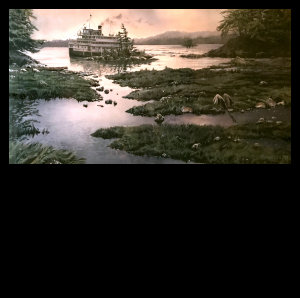 Sandhill Crane, 16" x 35", 2014
The sandhill crane is a species of large crane of North America and extreme northeastern Siberia. The common name of this bird refers to habitat like that at the Platte River, on the edge of Nebraska's Sandhills on the American Plains. These cranes frequently give a loud trumpeting call that suggests a French-style "r" rolled in the throat, and they can be heard from a long distance.

This is one of six paintings for a special 'bird' room in our home that depicts all of the birds that we see here on our property in Florida. Two pairs of sandhill cranes have lived at the property for almost five years. One pair we named 'Frazier & Niles' Crane. The other pair we have are extemely friendly. The female that I painted has a broken left leg that has healed on its own.










Giclee Prints: 16" x 24" on canvas mounted on a wood frame. Price $153:95. Insured shipping to USA via UPS Ground with tracking number $14:95