© 2018 Lawrence A. Dyer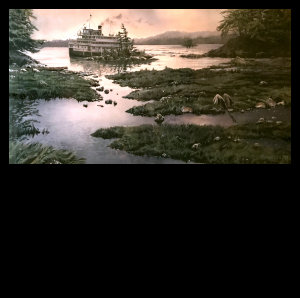 BARN OWL, 23" x 36" 1985
The barn owl is the most widely distributed species of owl and one of the most widespread of all birds. They specialise in hunting animals on the ground and nearly all of their food consists of small mammals which they locate by sound, their hearing being very acute. They mate for life unless one of the pair is killed, when a new pair bond may be formed.

With its ghostly appearance, rasping shrieks, and habit of roosting in such places as church belfries and barns, this bird has attracted much superstition. However, it is really a good omen for farmers who find it in their barns, for it preys chiefly on mice and rats. Discovered in its daytime retreat, the Barn Owl bobs its head and weaves back and forth, peering at the intruder. At night it is often heard calling as it flies high over farmland or marshes. One of the most widespread of all landbirds, found on six continents and many islands.