© 2018 Lawrence A. Dyer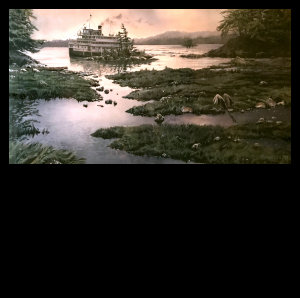 SNOWY OWL AND MAPLE, 30" x 48", 1990
A castaway blown south from the arctic tundra is caught in a fleeting glance behind a massive maple at the end of Birch Point road where I lived. With his majestic wings, he flew silently past, gone in an instant in search of his prey. I have included this particular huge maple at the end of our street, in several of my paintings. When I left Gravenhurst Ontario for Florida, I gave this painting to the owner of the lot where the maple stood.