© 2018 Lawrence A. Dyer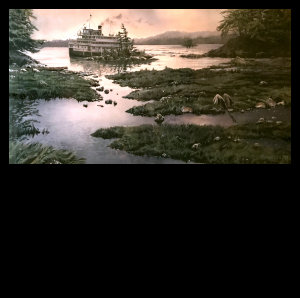 EAGLE IN THE MIST , 12" x 24", 2009
The bald eagle with its wingspan of 5-7 feet dwarfs most other raptors. We have bald eagles nesting not too far from us on the coast of Florida. Occasionally they land in the trees around our pond, with their unmistakable slow loud heavy wing-beats, which makes you realize just how large they really are. The bald eagle is the only eagle unique to North America. They are found throughout most of North America, from Alaska and Canada to northern Mexico. About half of the world's 70,000 bald eagles live in Alaska. Combined with British Columbia's population of about 20,000, the northwest coast of North America is by far their greatest stronghold for bald eagles. They flourish here in part because of the salmon.

We rarely see bald eagles in our area of florida, but every once in awhile one will land in our stand of oaks behind the house. It is always a magnificent sight.



Giclee Prints: 12" x 24" on canvas mounted on a wood frame. Price $158:95. Insured shipping to USA via UPS Ground with tracking number $14:95