© 2018 Lawrence A. Dyer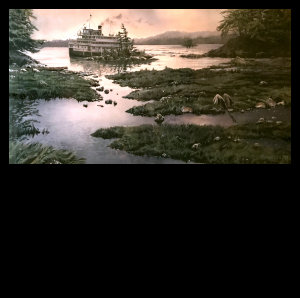 GREAT HORNED OWL IN PINE , 24" x 36", 1996
The great horned owl is a large owl native to the Americas. It has long, earlike feathered tufts, intimidating yellow-eyed stare, and a deep hooting voice. This powerful predator is nocturnal and can take down birds and mammals even larger than itself. It's one of the most common owls in North America, equally at home in deserts, wetlands, forests, grasslands, backyards, cities, and almost any other semi-open habitat between the Arctic and the tropics. This owl is seen precariously balanced on a small limb of a large pine.