I did a series of six paintings that were designed for a pictorial wall mural in our home. The room and murals depict the birds that we see outside our windows in Forida. This is one in the series. We have several mallard families that live in our pond and feed each day at our bird feeding station.
© 2018 Lawrence A. Dyer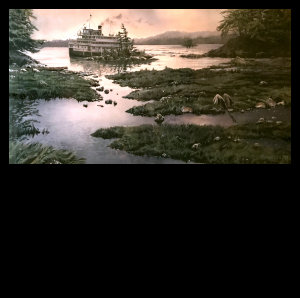 Giclee Prints: 16" x 24" on canvas mounted on a wood frame. Price $153:95. Insured shipping to USA via UPS Ground with tracking number $14:95
Mallard & Chicks, 14" x 35" 2014
The mallard is one of the most recognized of all ducks and is the ancestor of several domestic breeds. Its wide range has given rise to several distinct populations. The male mallard's white neck-ring separates the green head from the chestnut-brown chest, contrasts with the gray sides, brownish back, black rump and black upper- and under-tail coverts. The female mallard is a mottled brownish color and has a violet speculum bordered by black and white. The crown of the head is dark brown with a dark brown stripe running through the eye. The remainder of the head is lighter brown than the upper body. The bill is orange splotched with brown, and the legs and feet are orange.