Giclee Prints: 12" x 24" on canvas mounted on a wood frame. Price $158:95. Insured shipping to USA via UPS Ground with tracking number $14:95
SNOOK IN THE MANGROVES, 12" x 24", 2009
The common snook is also known as the sergeant fish or robalo. Snook can be found in the miles of red mangroves along the coast of Florida. These mangrove forested shores are legendary for snook, tarpon and redfish, three of the most exciting salt water fish to ever swim on this planet.
© 2018 Lawrence A. Dyer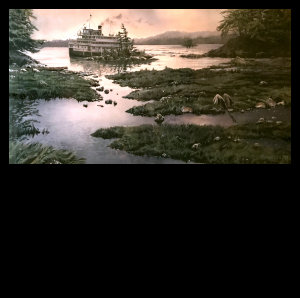 Original painting: 12" x 24" original painting on board. Price $595:95. Insured shipping to USA via UPS Ground with tracking number $14:95