© 2018 Lawrence A. Dyer
Giclee Prints: 12" x 24" on canvas mounted on a wood frame. Price $158:95. Insured shipping to USA via UPS Ground with tracking number $14:95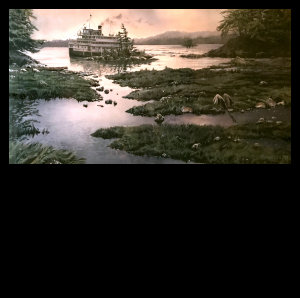 TWILIGHT SCHOONER, 24" x 48", 2001
This is a painting of an old fishing schooner that is coming home into the harbor for nights rest. The sails glow in the setting sun and the small crew is preparing to take down the sails and moor the schooner for the night.
The framed original in antique frame. I painted the frame to compliment the painting, as in many cases the frame can make or break any piece.