WIND RIVER CANYON, 33" x 66", 2018
The Wind River Mountain Range is a spectacular range that extends for 100 miles across west Wyoming, merging in the north with the densely wooded hills and valleys east of Jackson Lake, and sloping down more abruptly to high desert plains in the south, at the edge of the Great Basin Divide. Spectacular rock walls rise 2,500 vertical feet on either side to the ridge tops. The Wind River itself flows north through the canyon. This painting is done in the style of the artist 'Albert Bierstadt', an American painter renowned for his enormous romantic sweeping landscapes of the American west. His massive canvases were painted in the mid to late 1800;s and his pieces were sold at staggering prices. He enjoyed tremendous success and international recognition. He is one of my favorite artists that has inspired me my whole life.
© 2018 Lawrence A. Dyer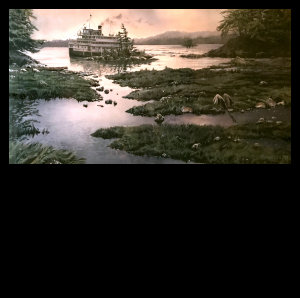 The images below show some of the steps I use in creating a painting.
Start with pencil drawing. Rough in the image with basic colors.
Build up painting with color washes. Continue to add detail until finished.

Finalize the painting by adjusting the overall impression by standing back from the image and making adjustments (see final painting above).

Giclee Prints: 20" x 36" on canvas mounted on a wood frame $295.00 . Insured shipping to USA via UPS Ground with tracking number $18.00